Save project
Save project is for saving your project for future edits.
From the project toolbar, select Save project.
Enter the project's name.
Select OK.
Note:
Saved projects are stored in the app's home folder. Project is NOT a video. If you want to share your video, you need to export your project using
Save video
button.
Save video
Save video is for exporting your project as an output video file.
Video encoding options
Before starting the video encoding process (Save video) you need to select video encoding options.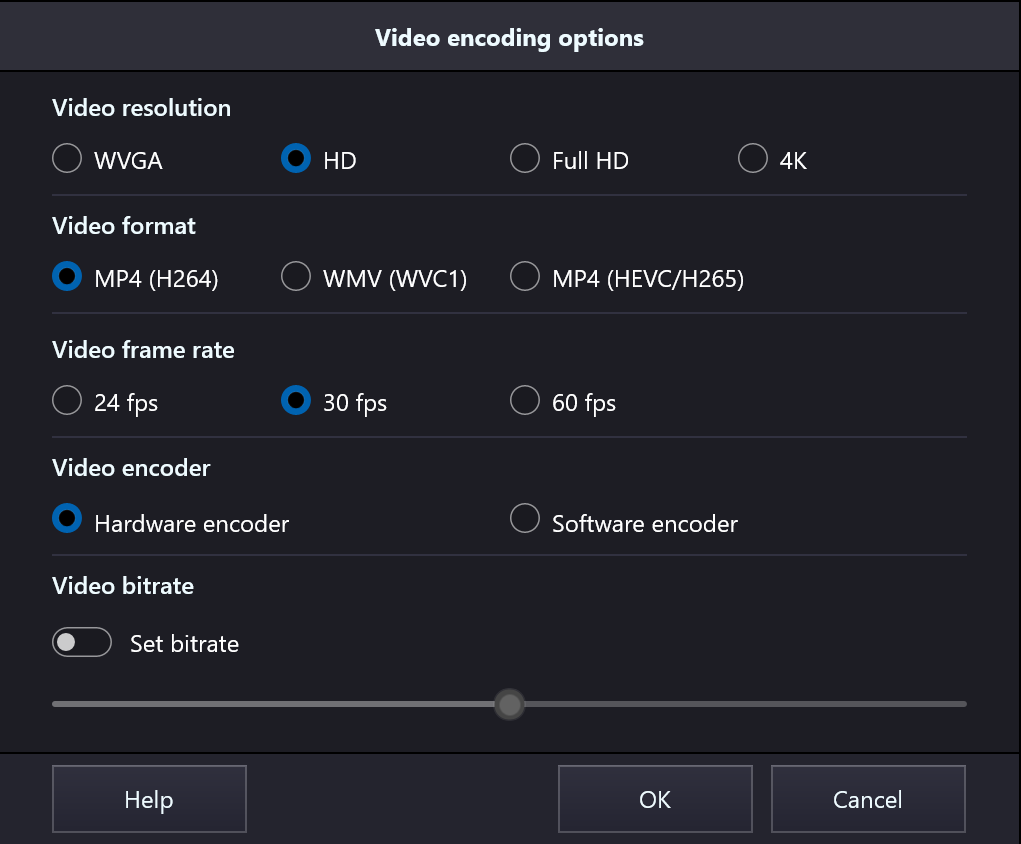 Video resolution
This is the resolution of output video file. There are four options: WVGA (854x480), HD (1280x720), Full HD (1920x1080), and 4K (3840x2160).
Note: Full HD and 4K options are only supported with the Pro app license.
Video format
This option selects the format for output video file. Currently HD Movie Maker supports two formats: MP4 and WMV.
Video encoder
This option selects the video encoder used during video encoding process.
Hardware encoder: hardware accelerated video encoder will be used. The video encoding will be faster but some rare issues may happen as noted below.
Software encoder: video will be encoded using software encoder.
Note:
HD Movie Maker may crash while doing video encoding if you select Hardware encoder and the graphics driver of your PC is not stable. In this case you can try again with the Software encoder. However, we recommend you update your graphics driver before trying again. See the FAQ section on how to update graphics driver.
The color of output video file may become over exposed if you select Hardware encoder and your source video file was encoded with an incompatible color space. In this case, trying again with Software encoder will solve the problem.
Video bitrate
You can set video bitrate if you want to limit the size of output video file. If bitrate is not set, the video encoder will automatically select a bitrate for you.
Note: Setting video bitrate is only supported with the Pro app license.