The Sountrack editor is used to add and edit background music and voiceover in your project
On the project toolbar, click on Edit soundtrack to open the soundtrack editor.
Note: The editor can only be opened if the project is not empty (at least 1 clip in the project).
Tips: It is best to work with the soundtrack after you've finnished working with the video track.
Interface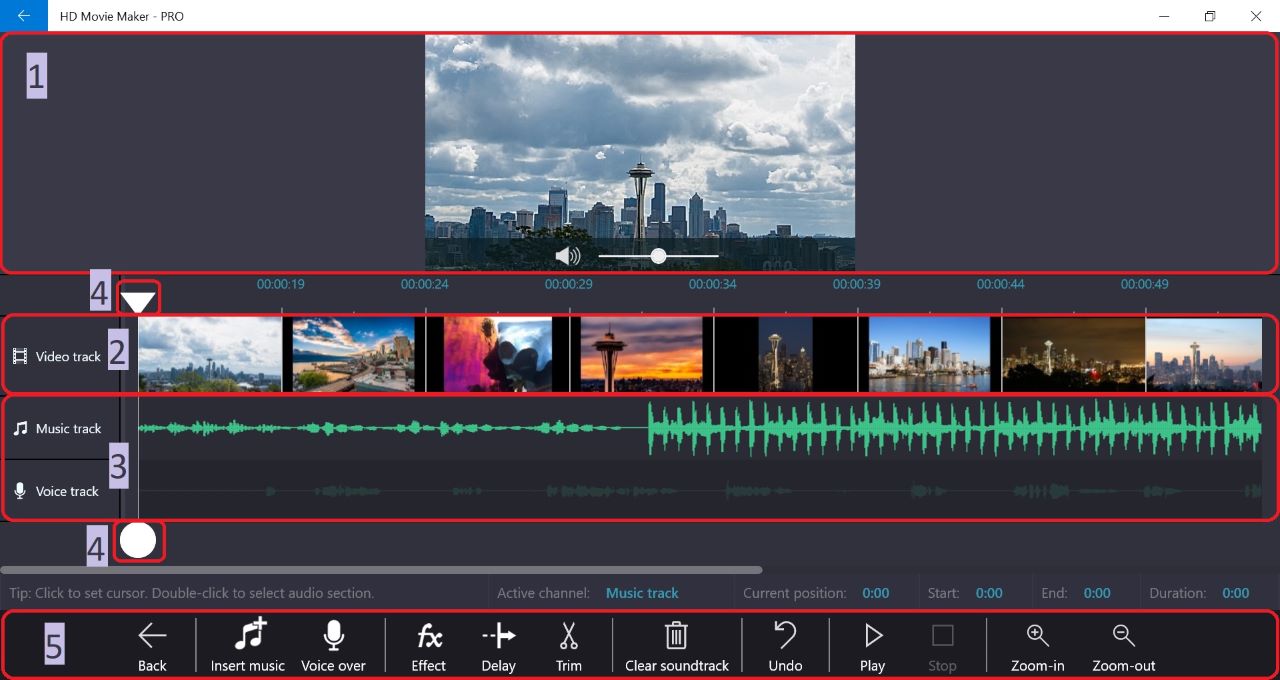 Preview area
Video track: to view the list of simplified clips
Audio tracks

Music track: the track for background music
Voice track: the track for voice-over, narration, etc.

Cursors

Triangle cursor: setting current position for audio editing
Round cursor: making selection

Soundtrack editor toolbar

Back: go back to Project page
Insert music: add music to music track
Voice over: add or record voice-over clip to voice track
Effect: consist of adjust volume and fade in/fade out
Delay: add delay time at the current position of the cursor.
Trim: delete the selected audio
Clear soundtrack: clear the soundtrack content or audio/music track
Undo: undo the latest action
Play/Stop: preview Project soundtrack.
Zoom-in/Zoom-out: change the timescale displaying the soundtrack.
Adding music
Set/drag the triangle cursor to the position you want to add
Press Insert music.
Choose between adding a built-in music track or your own file
Adding voice-over
Set/drag the triangle cursor to the position you want to add.
Press Voice over.
To add a pre-recorded clip:

Select Insert voice clip
Choose a pre-recorded clips.

To record a voice-over:

Choose Record voice
Select Record to start recording
Press Stop to stop recording
Choose Close to close the recorder
Tips:
To avoid losing the first word in your recordings, you should wait around 1 second before speaking after you start recording. You can always trim the excess silence later on.
Cursor manipulation and audio selection
Make a track active for editing

Click on an audio track to make it active.

Note: Only one track can be active at a time.
Set triangle cursor

Click on the area above video track list to set the cursor.
You can also drag it to a new position.

Make a selection

Drag the round cursors to make a selection.
Click on a video clip to make a selection on the active audio track corresponds to the time and duration of that video clip.
Double click on an audio track to select the current segment of that audio track.

Tips: For more precise selection, use the Zoom-in or Zoom-out buttons to zoom-in/zoom-out of the display timescale.
Editing features
There are several things you can do to edit the selected segment of sound.
Change the volume

Select an audio segment
Select Effects → Volume
Drag the slider to adjust the sound.

Fade in/Fade out effect

Select an audio segment
Select Effects → Fade-in for fade in effect
Select Effects → Fade-out for fade out effect

Delete segment

Select an audio segment
Select Trim

Note: By selecting Trim, the audio segments after this position will move backward in time.
Add a silence

Set the triangle cursor to mark the beginning of the silence
Select Delay
Drag the cyan cursor or enter the time in the dialog pop-up to adjust the duration of the silence

Undo changes
Preview
Clear tracks

Select Clear soundtrack → Clear music to clear the music track
Select Clear soundtrack → Clear voice to clear the voice track
Select Clear soundtrack → Clear all to clear both tracks